Виталик Бутерин подтвердил успешную миграцию блокчейна Ethereum на Proof-of-Stake и поздравил всех причастных.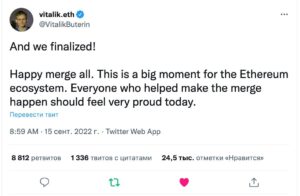 And we finalized!

Happy merge all. This is a big moment for the Ethereum ecosystem. Everyone who helped make the merge happen should feel very proud today.

— vitalik.eth (@VitalikButerin) September 15, 2022
Мировое потребление электроэнергии после окончания майнинга эфира единократно сократилось на 0.2%.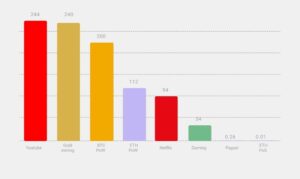 Первые блоки газ был около 100 гвей, на текущий момент – 41 гвей.
По данным аналитического исследования Kraken – дефляционная модель эфира при текущем объеме стейкинга будет при среднем значении 16.5 гвей за транзакцию.
По данным ultrasound.money с момента перехода на PoS – выпуск эфира сократился на 86 ETH.